Facebook Offers vs. Facebook Deals
While these 2 promotional tools look very similar, they are in fact very different areas for the business creating each.
Facebook Offers:
Limited to pages with more than 100+ fans, Facebook Offers can be a powerful way to to attract new customers.

There are 3 kinds of offers:
In Store Only: People can show to the staff at your business by printing the offer email or showing it on their smartphones

In Store & Online: People can redeem at your business's physical location or website

Online Only: People can only redeem your offer by visiting your website
How-To create a Facebook Offer:
Go to your Page.

From the sharing tool at the top of your Page's timeline, click Offer, Event + and then click Offer.

Click the kind of offer you want to make: In Store Only, In Store & Online or Online Only.

If your offer can be redeemed online, type the complete web address where people can redeem it and add an optional redemption code for people to enter. Then click Next.

Type a strong headline for your offer. For example, "Buy one pair of socks, get another pair free."

Upload a photo for your offer that will stand out in thumbnail size.

You can choose to limit the number of claims by clicking 5,000 and selecting a number from the dropdown.

Set an expiration date by clicking today's date and clicking a different day in the future.

Add terms and conditions of your offer by clicking Terms.

For in-store offers, add an optional barcode to scan at your business.

Click Preview to review what your offer will look like. We'll also send you an email with a preview of what the offer email will look like when people claim it.

Click Back to make changes.

When you're happy with the preview, click Set Budget.

Choose the amount you want to spend to promote your offer. Notice that the estimated reach increases with bigger budgets.

Click Share.
Facebook Deals
Facebook Deals are a great way to promote your business to customers with timely offerings that involve customers checking-in at your location.  As a business owner with a Facebook page, you can give your customers a discount for themselves, checking in with friends, repeat check-ins, or even to support a charity.
Unlike Offers, no minimum fans are required.  However, you must have claimed your Facebook Place listing as a Page.
How-To create a Facebook Check-in Deal:
Edit your page
Click "Deals" on the left side

Select which type of check-in deal you'd like to offer
Define your offer
Add any additional details
Notice previews on sidebar
Create deal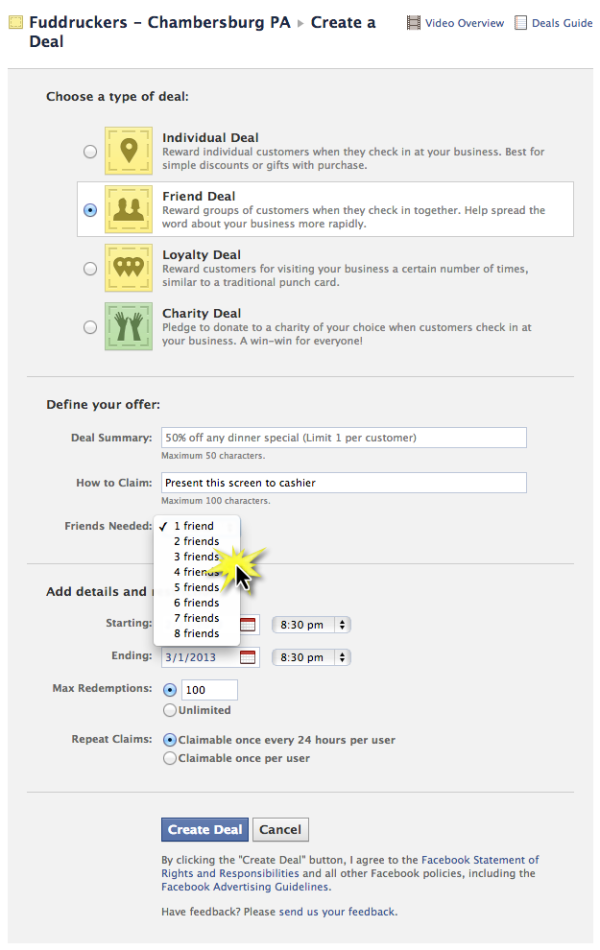 Offers will display as an ad or inline on the main Facebook All News area. Deals will display when mobile users look at "Nearby".
Whether you use Facebook Deals or Offers, pay particular attention to how your customers redeem these promotions. Be sure your staff is ready to handle the mobile incentives being presented. Both promotional tools can increase your exposure widely.
I'd love to hear how Facebook Deals and Offers work for your business.
Related articles