Are you new to Pinterest?  I know many that have joined, but that doesn't mean you are too late to participate. Use this as a quick beginner's guide to getting started in Pinterest.
Pinterest mimics a cork board hanging in your home.  Think of it more like a series of boards.  You may have one in your office with specific things on it, another near the kitchen with recipes, and one in the garage.  Each collects things for that designated topic.  You get to pick out what theme you want each of your boards to have, and pick out which boards made by others you want to see.
How to find interesting content:
When you first log in to Pinterest, you might not see much there that compels you to look around or return. This happened initially to me.
When I created my account, I was able to see existing Facebook friends using Pinterest too, and therefore selectively subscribe to them. However, I wanted to find more content than what they were sharing.
At first it wasn't even clear to me that most of what I was seeing was a collection of photos, each with their own link to the original article. It was a spin on a decade-old social bookmarking, but visually organized.  Generally you just click on the photo to expand it, and click again to view the original article.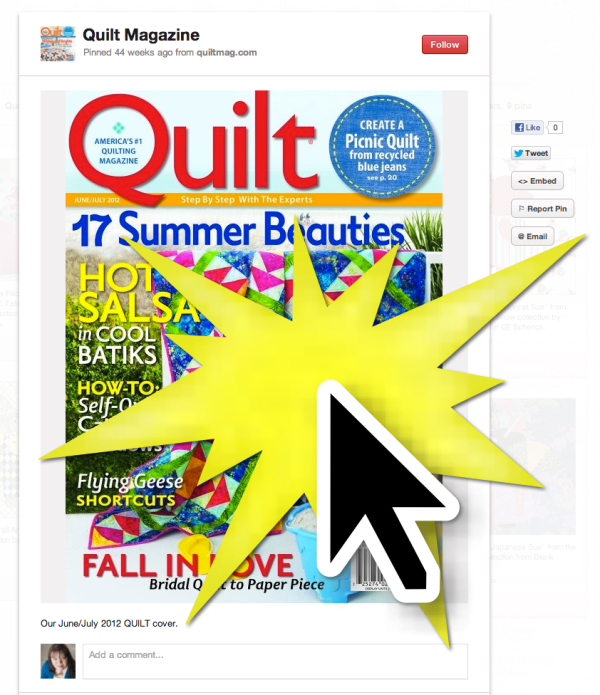 You can like something and repin by hovering over the photo.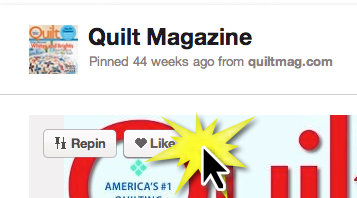 Repinning means to save this item to one of your own boards. I repin more things than I like. If I want to find it again, I repin it to save it to my own profile.  If I "like" something, I think it's worth telling others but likely not something I'll ever look back on again.
Here are a few ideas for finding interesting things:
Do a search for what interests you.  Into quilting? Search for Quilts.  Then select "Boards". This will show you publicly viewable Pinterest boards by anyone else with the same interest as you. Follow the boards that seem interesting to you. You'll only see what is saved to that board, not everything the curator saves to Pinterest.
Search for Pinners  – Like searching for topic boards that interest you, search for people or brands by name (think outside the box here… TV shows, magazine articles, websites you frequent, stores you like, etc.).  Follow their boards as well. You'll see everything the person or brand saves.
Follow from their websites – when you are visiting a website you like, look for any buttons that indicate you can follow the brands Pinterest account
Browse Pinterest Categories – while navigating Pinterest, view the Pinterest categories for topics that interest you.
How to find people: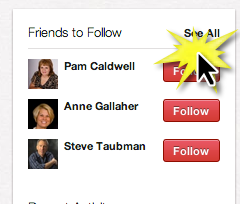 When you first sign up for  Pinterest, it will want to scan your Facebook account to connect you with your friends from there that are on Pinterest already. You can always go back to find those friends, as well as to look for friends using your own Gmail account, Yahoo, or other email system.  From your main dashboard, on the left, select "See All".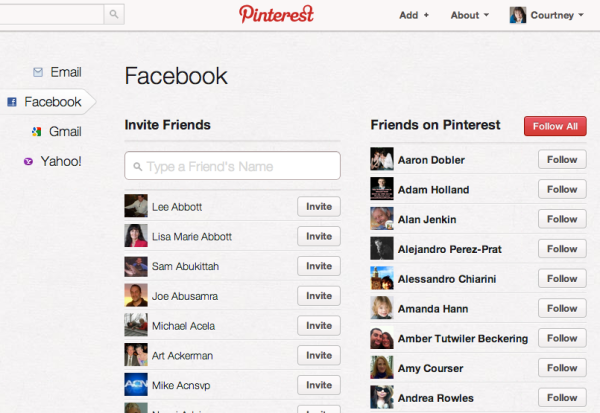 How to save Pins from around the web:
Pin It button – While you are browsing the web, you may see "Pin It buttons on the sites you visit.  This is an easy way to save content to your Pinterest boards.  
Pinterest Pin It Button – can be installed as a button in your browser by visiting http://about.pinterest.com/goodies/#browser

Pinterest Bookmarklet – 

Another way to save content is to save the Pinterest bookmarklet to your browser shortcuts.  Also available by Pinterest at http://about.pinterest.com/goodies/#browser
Add via Pinterest.com – from your Pinterest dashboard, in the top right corner click "Add" and paste the address of what you'd like to save.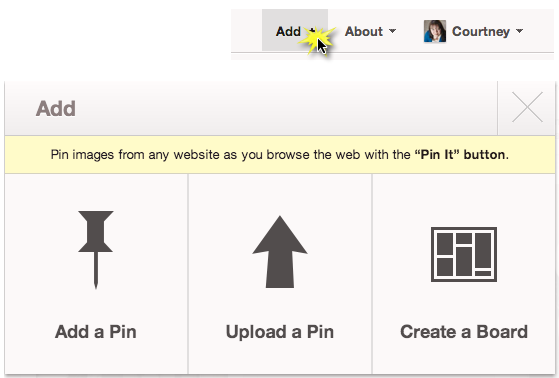 Pinterest is a great place to find what you are looking for, and it can also be a great way for others to discover what your business has to offer.  Look for a few follow-up posts here for creating business accounts on Pinterest, how to use the mobile devices, and more.
I'd love to connect with you on Pinterest. http://pinterest.com/courane01/
Related articles