What tools do you use in managing your work, family, and personal calendars?  I've assembled a few of my favorite tools, both software and web-based.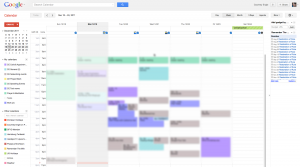 My favorite calendar tool is web-based.  I prefer this tied to either a Gmail or Google Apps account for a few reasons.  First, I can share my calendar with my family so they know exactly where I'll be at which times.  Secondly, I can get to my calendar from multiple devices.  I also can share my calendar with colleagues and limit the display to show only if I'm busy or free, but limit the specific details from them.
For those of you preferring software, you can sync Google Calendar to Outlook and Mac iCal.  It's far easier to connect to iCal compared to Outlook.
Pre-installed on Mac OS X, iCal can help you keep your calendar connected across all your Apple devices.  It stands as a separate application than Mail, but is fairly light on system resources.
I prefer BusyCal though.  With it, I can add in a to-do list.  As part of David Allen's "Getting Things Done" approach, a to-do list is not the same nor does it belong on calendar days.  However, I like housing that quick information in the same location.  I can see upcoming deadlines and integrate BusyCal with other productivity systems. BusyCal still works with iCal and Google Calendar, but takes iCal a few steps further.
Outlook
Microsoft Outlook has stood the test of time in the corporate world.  Outlook is the calendar software of choice for companies looking to network schedules among many people.  Home users that share one email account per household often use Outlook as well. However, I find it severely lacking a way to share different schedules of household members and connect with mobile devices.  In addition, Google Calendar users can sync to Outlook, but for Google Apps users, this will not be a simple process.
To coordinate meetings with clients, I prefer Tungle.Me.  It allows clients to see my availability, propose several meeting slots, and I can accept which slot I have available.  This is ideal for scheduling needs.  It then syncs back to my Google Calendar.
What calendar tools are you using to track your work, family, and personal calendar needs?  How are you connecting them with others and mobile devices?
Related articles