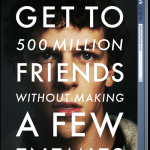 The Social Network was the #1 box office movie opening weekend. I was among the masses in attendance opening night. It was a well produced movie, based upon facts, but also highly fictionalized. Mark Zuckerberg and Facebook have altered how we conduct business, nearly eliminated the disconnect that happens after high school graduation, and made it much easier for us to find long-lost friends and family. Still it is important to see the brilliant story from the reality.
Fact vs. Fiction Reviews:
Interviews with the real Zuck:
My Suggestion:
Having seen the movie, and done my homework – I'd say go see the movie. However, be cautious about believing everything you see. It is well written, and the dialog is outstanding. A few great scenes portray Zuckerberg as an arrogant business owner. It is humorous to see, but again – notice if you are buying into another tech giant being vilified for our entertainment. It was worth the money and seeing it open night. I'll likely skip any second viewings or DVD purchases though.